Declare Your Independence from the Bee-Killer in Your Backyard: Buy Organic Seeds!
Are bee-killers lurking in your backyard?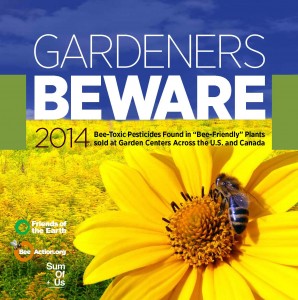 If you purchased garden plants from big box stores or local garden centers, there's a good chance they're contaminated with bee-killing pesticides. So it's important to ask about how these plants were produced. We tested "bee-friendly" garden plants from Home Depot, Lowe's and Walmart in 18 cities across the U.S. and Canada and found more than half of the plant samples tested contained neonicotinoid (neonic) pesticides at levels that could harm or kill bees--with no warning to consumers.

So, instead of helping bees in our gardens, we may be unknowingly poisoning them.

Thousands of people across the country have signed petitions, sent letters and taken to the streets asking retailers including Home Depot and Lowe's to stop selling neonic pesticides. While we are making some progress and are in dialogue, these and other garden retail giants have yet to publicly commit to getting neonics off their shelves.

Fortunately, your voices are being heard. Nearly a dozen landscaping companies and retailers are taking steps towards eliminating neonic pesticides from their garden plants and stores, including BJ's Wholesale Club, with more than 200 stores in 15 states!

The European Union has put a moratorium on neonics, the UK's top retailers stopped selling them, and a growing number of responsible U.S. retailers have opted to be part of the solution. It's time for other top retailers to step up to the plate and commit to getting neonics out of their plants and off their shelves.


Declare your independence from bee-killing pesticides and pledge to only purchase neonic-free, organic garden plants and seeds. Find a list of organic retailers by using Beyond Pesticides' Pollinator-Friendly Seed Directory!

We'll deliver these pledges to Lowe's, Home Depot and other top retailers and demand that they listen to sound science and their customers and give bees a chance!